December in DR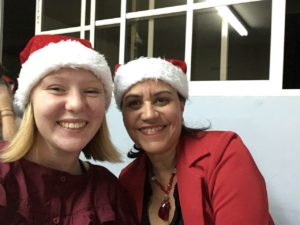 December in the Dominican Republic was a strange time for me. Until now I have always known exactly what Christmas is and isn't and what it includes and doesn't include.  Christmas was completely different here. Even though it was hard it was amazing!
Traditions 
I can´t really point out any special traditions from here except for dancing (not around the tree). The most popular kinds of dancing are merengue and bachata. They eat dinner together on Christmas Eve and some families go out to see fireworks.
Jeg lavede nogle danske traditioner fx risengrød, havregrynskugler, julekalender, kalenderlys, julepynt og så hyggede jeg selfvøglelig med min værtsmor.
The traditional Christmas food 
Arroz navideño (Christmas rice (of course more rice))
Cerdo (pork)
Pollo al horno (baked chicken)
Ensalada verde (green salad)
Ensalada de papas (Potato salad)
Pastelon de arroz
My food on Christmas Eve                                                         My food at an activity
Hygge
Here they don't know what hygge is! Which is obvious at Christmas time. It´s difficult to explain the concept to someone that doesn't know it and even harder to explain how you can avoid it in December. I tried to explain it in this video that is on AFS Aarhus's facebook page:
https://www.facebook.com/AfsAarhusLokalforening/
The package
What helped me keep my mood up was the things that my family sent me from Denmark. It contained a lot of Christmas related things including decorations, candy and calendars. You can read everything about "the package" here:
School
Nothing really changed in the school except that we decorated the classroom. The last day of school we had a party at the school which was fun and different. You can read and see pictures from the day here:
My experience
My experience was both good and bad. I am happy that I got to experience December and Christmas another way than I normally do. Every day I woke up to a package from my calendar and I enjoyed making all the DIY projects that were in them. Buuuuut I have to say I'm excited to be home next year with my family and the Danish traditions.
We decorated the house and I'm very happy my host mom took the time to make everything a bit more Christmassy.