Festival Presidente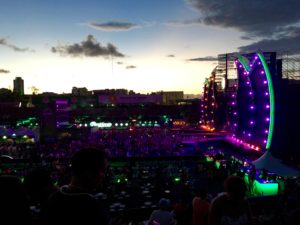 What is Festival Presidente?
Festival Presidente is the biggest festivel in the Dominican Republic and is held for three days. The festival is named after the most popular beer in the country and many people attend each year. This year more than 25 artists performed including Justin Timberlake, Carlos Vives, Ricky Martin etc.
Planning
I really wanted to go (even though I didn't know the artists) because of the experience. It ended up being quite tricky to get there.
The first plan was that I was going with three girls here from Moca. A week before the festival I wrote to her to make sure everything was read and she replied that they hadn't brought tickets for me. Nice. I then had to make a plan and buy tickets myself. I talked with two other friends from Moca (a girl from Germany and a boy from France) to ask them if they wanted to go with me. They both decided to come with me and we planned to go Friday. The plan was that my mom would drive us to the festival and then we would later sleep at my brother's apartment. Everything was ready and we were excited to go but then I found out that my brother wasn't home the whole week. I suggested that we went with my host mom to the festival (we must travel with a parent or family member until February) and that we could drive home the same night. My host mom said she couldn't handle is three with that many people (fair enough) but I had to find a new solution. We quickly wrote to the local AFS to see if someone wanted to go with us. The day before the festival someone says that he can go with us to the festival. Yes! We brought the tickets and I was beyond excited.
The festival
Chantal (the girl from Germany) was at my apartment around 1 pm with Saran (the boy from French) because we had to take a mini bus from Moca to Santo Domingo. The ride took around 2 hours and was freezing cold because here they like to turn the air conditioner on the coldest it can get.  We finally arrived and realized how big it was. There were people everywhere and they were freaking loud. Everyone was either screaming or making another high sound. But it was all fun with all the energy in the air. We walked back stage and saw dancers getting their makeup done and the small busses for each of the artists. Chantal and I wanted to take a picture of one of the doors. Just as we were ready to take the picture the artist came out of the door. We had no idea who it was so we just asked, "who are you!?" but he was just as shocked as us (he basically just walked straight into us). He just answered "well.. uhm… I have to go". He walked away and we soon heard a lot of girls scream.
After that we found our seats and started listening to the music. We had no idea who was singing our what they were singing about but we had a great time anyway. We ate pizza drinked water (we were not allowed to drink the beer because we are 16 and 17 and the you have to be 18 to drink). The person I was the most excited to see was Justin Timberlake. First of all, he sang in English and second it was JUSTIN TIMBLERLAKE. He was on stage from 12 pm to 1:30 am so he was the last artist of the day. He was amazing and sang all of best songs and the newest one "Can't Stop The Feeling".
I loved the experience and I'm happy we made it happen!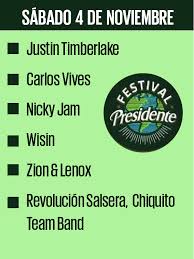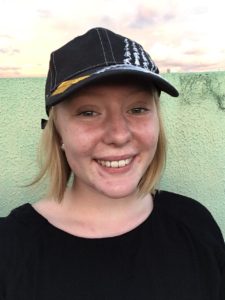 The artists performing Saturday and me at the festival 🙂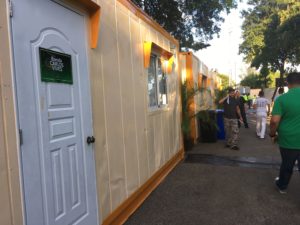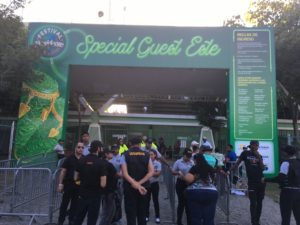 Pictures from backstage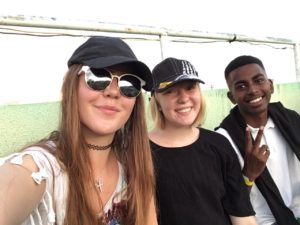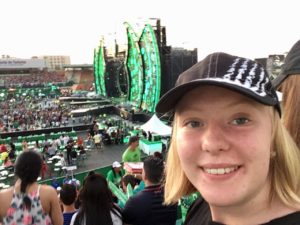 Us 🙂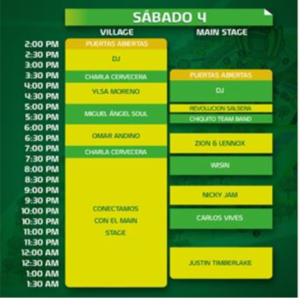 The schedule and the beers in my local store
Performances
Justin Timberlake: