I climbed the highest Mountain in the Caribbean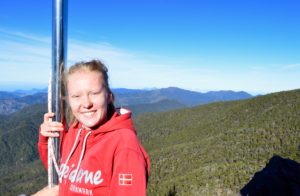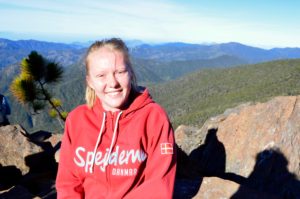 Every year AFS offers trips you can go to as an exchange student and in the Dominican Republic one of them is the trip to Pico Duarte. The aim of the trip is to climb the mountain and it is five days long. It costs RD$9.000 (200 dollars) on foot and RD$12.000 (255 dollars) if you want to pay for a mule. So, unknowing of hard it would be, I said yes and payed extra for a mule.
A few facts about Pico Duarte
It's the highest peak in the Caribbean
Height over sea-level is 3.098 meters
It's situated in the north
It's a part of the Mountain range Cordillera Central
The 1st day (Wednesday November 22nd)
Goal: Face what I had gotten myself into
I packed the necessities and was picked up at my apartment and a few minutes later I was dropped off at the school Colegio Educare. We were told to meet here at 2:00 pm and I was the only one there because Dominicans don't know how to arrive on time. I was guided into a bus and told to wait there. A good 20 minutes later everyone was there and we were on the way to pick up the rest. We stopped once at a gas station and everyone bought something to eat and drink. I personally bought a back of chips and later regretted not getting something to drink because chips make you very thirsty.
Sooner or later we arrived at our destination and sleeping place for the night. It was a camp close to a big river in a forest. We ate dinner and rolled out our sleeping bags on the cement ground. At around 9.00 am everyone gathered indoors to hear about the trip. Here we got our T-shirts and was told to keep together and how freezing cold it would be (according to them).  All the people that had paid for a mule was asked to put their hand in the air. I proudly raised my hands and looked around to see six or so others do the same. A couple of people laughed but they would soon regret not getting a mule themselves.
We went to sleep early and I slept awful. The ground was hard and no one had a sleeping pad so I woke up feeling like a grandma with back problems.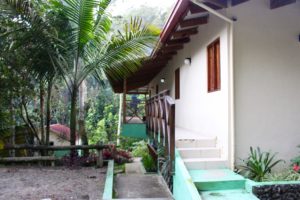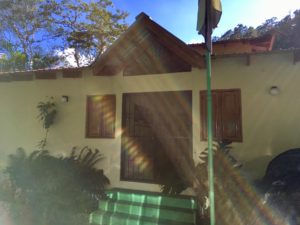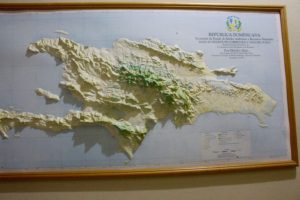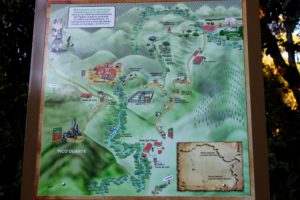 .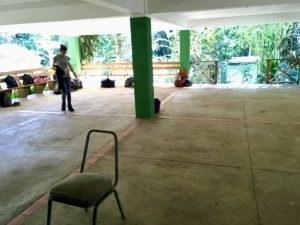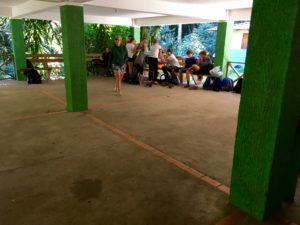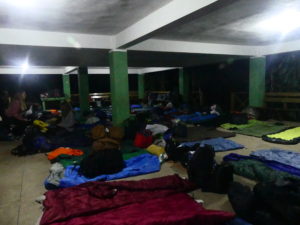 The 2nd day (Thursday November 23rd)
Goal: to walk 18 km (we later found out it was really 21 km).
After packing all my things, brushing my teeth and braiding my hair (this was the only day I had the energy to do it) I went down with the others to breakfast. The breakfast consisted of some bread, scrambled eggs, hot chocolate and donuts.
Everyone had packed one back of luggage, a sleeping bag and a carry-on bag. The bags and sleeping bags were gathered and a ton of mules got the job to carry them. A mule is a mixture of a horse and a donkey and are super cute.
Everyone got a bag consisting of two small sandwiches, some candy and an energy drink. Off we went. It was all fun the first 4 kilometres and I remember thinking "this is easy". I couldn't have been more wrong. Soon it began going uphill, and for someone that hadn't worked out for around 4 months, this was hard. The first kilometres I had been in the front but quickly I was in the middle. My legs were burning, I was thirsty, it was hot and to be honest I regretted very much coming. But everyone thinks that when it gets extremely hard and we begin to pity ourselves (So don't tell me it wasn't hard and I was overreacting because trust me it was hell). I walked almost all the way with some Germans and we survived together. In the middle of the day we reached a place where it went downhill from there. It sounds so easy when it's written down but it was very difficult. From that point on I walked alone because the other guys where a lot faster downhill. I twisted my ankle but not so I couldn't walk or anything but just so I was more careful of where I stepped.
After a long time, I finally reached the end destination and like everyone else I collapsed on the ground and didn't move for an hour or so. Every time I'm under physical pressure I can't get myself to eat, so I had only eaten the candy and was extremely hungry. I almost swallowed the sandwiches at once. I had arrived at around 5 am circa in the middle of the group. Some people bathed in a river close to us but most people like me just relaxed and enjoyed doing nothing.
Later that evening we ate dinner around a bonfire and quickly went to bed after the meal.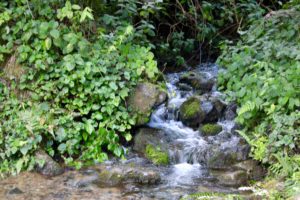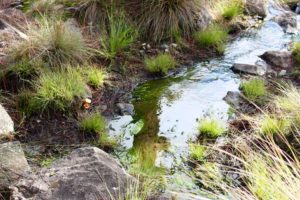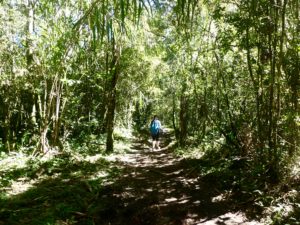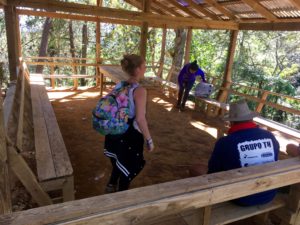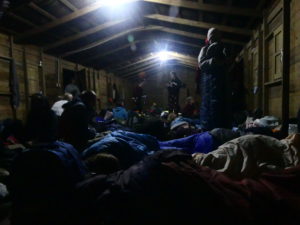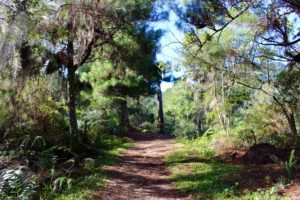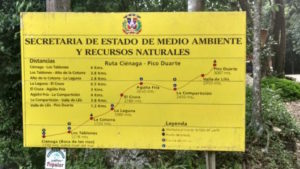 The 3rd day (Friday November 24th)
Goal: To walk 24 kilometres.
We were woken early in the morning and I had slept more awful than the first night (if that is possible). Before I realized we were walking again. After around 10 minutes I was walking alone again but I didn't mind it. I preferred it that way and every time I saw someone I did everything I could to avoid walking with them. The path went uphill all the time and when I thought I was at the top it continued on and on.
I had walked for around an hour and a half when I heard voices. I just assumed that everyone was taking a break at the same time. I rounded a corner and the I saw it: The top! I swear I could nearly hear angels sing. It is to be said that I thought we were going to reach the top the 4th day so I was extremely surprised to see the top.
I met with one of my friends from Hungary and we took a lot of pictures. The view was amazing as you probably can imagine and the sky was clear so we could see far. The highest point was on a big rock. On the rock, there was placed a statue, a cross and the Dominican flag. This was the first time I have ever climbed a mountain and I must say it feels incredible.
Of course, at one point I had to walk down again. That was pain in the ass. Walking down is nearly as hard as walking up because you constantly struggle against falling. I made to the camp again and sat down to eat with some of the others. I told one of the organizers that I wanted to ride on the mule from the point where it began to go downhill again. He took me bag and I continued with Chantal (the girl from Germany I went to Festival Presidente with http://myminds.eu/festival-presidente/) and Zsófi (the girl from Hungary).
We ended up walking four kilometers uphill until we reached the point where I would get a mule. When the time came where I had to go on the mule I was terrified. The only riding experience I had was on an old horse that was led by a lady.
All went well and my mule just followed the other mules until one of the men was behind my mule. The man was directing the mules and shouted at them. My mule was afraid of the man and didn't want to be in front of him. So, when the path was a bit wider it pushed the mule in front of us into the forest and ran. I was terrified because on the other side was the cliff and I obviously didn't want to fall. I used all the power in my legs to hold on. It finally stopped running after what seemed like minutes but was only seconds. I immediately commanded to get of the mule but one of the man took the mules lead and led the mule after him. I was late told that mule had done the exact same thing to the ones that had ridden it before me.
After that episode, I commanded to get a new mule at the next stop. I got a new mule and it was splendid and I enjoyed the rest of the day. We rode for hours and hours downhill all the time which is scary because you are completely trusting a creature with your life. The mules had of course done this many times and they knew exactly where to step.
When it began to get dark we got our flashlights out and lit on the path so the mules could se where to go. This part of the trip was simply magical. It reminded me of The Hobbit and I felt like Bilbo. I liked the adventure but I kept thinking of my bed and the good food at home.
We passed a lot of people walking in the mud in the pitch black and I couldn'tt resist thinking "Ha! Who is laughing now?".
We finally made it to the camp and I struggled to get off the mule. To be honest I had to get help because my butt was so sore after all the riding. We ate and Zsófi and I found a tent to sleep in (There were a few tents but most people slept in a big hut. Just the thought of sleeping on hard ground again made my bag protest so I decided to sleep in tent). Just as we were unpacking all our things two men came up to us. They said we had to find another tent because they had already "booked" that one.
Off we went to find another tent. Success! The next thing I remember is that I immediately fell asleep.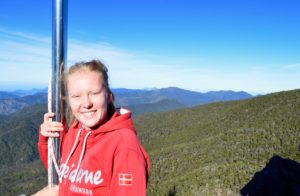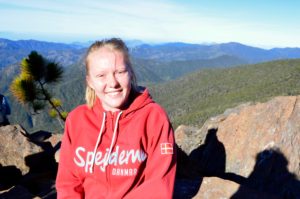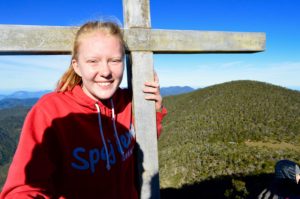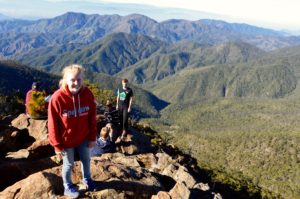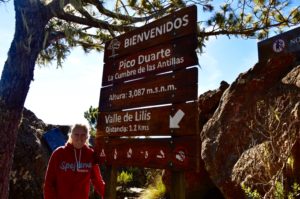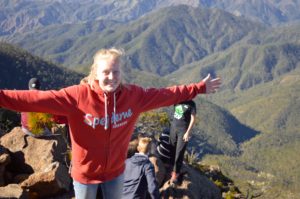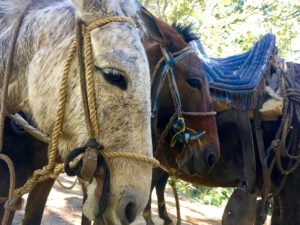 Other Exchange Students pictures from the same trip and day: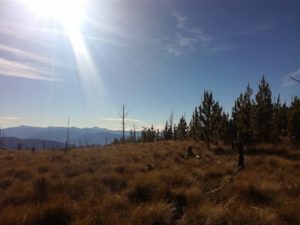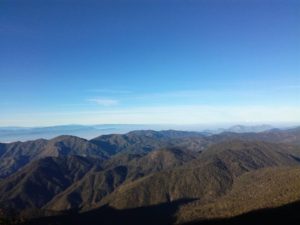 The 4th day (Saturday November 25th)
Goal: To walk as little as possible and relax as much as possible.
This was by far the best day of all (maybe because we didn't have to walk?). I woke up with Chantal to continues sound. Dunk, Dunk Dunk. "What the hell are they doing?" I remember askin. Neither of us had the answer and we couldn't stop it.
I must have fallen asleep because late I woke up and found Chantal looking outside of the tent. "There are two dead pigs outside of the tent!", she said. "What!?" I said and looked out because I had no idea what she was talking about. The men were making pig roast. Now it all made sense. They had cut wood for the pigs early in the morning!
We ate the pig roast for lunch and it tasted delicious. Later that day we all went to a big over near the camp. We could swim in the river and jump off a rock into the river. There were two places to jump from. I am proud to say that I jumped from both the high and the low one. The water was freezing and I preferred to jump and quickly get out of the water.
The second time I jumped from the high rock my back gently hit a big rock under the water. After that I decided not to jump anymore. I was terrified of jumping straight down on a rock.
The rest of the day I just relaxed and did as little as possible (I nearly stopped breathing).
After dinner, we had to do a presentation of our country describing first the things our country is known for in our native languages and then later in Spanish. We also had to sing two songs in from our countries.
Me and another girl from Denmark (not Emilie, the girl I flew here with because she went home to Denmark) chose to sing "Jeg ved en lærkeræde" and "Der er et yndigt land"and tell about Lego, H.C. Andersen, Mærsk and Hygge. I of course chose to say the part in Danish and the other girl agreed to say it in Spanish. All in all, it was a good evening/night and it was interesting to hear the other languages.
I slept awful because everyone had to sleep in the hut on the hard ground. This was far the best day!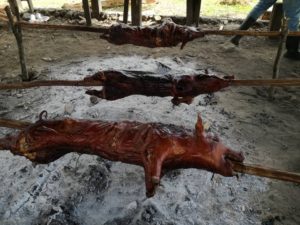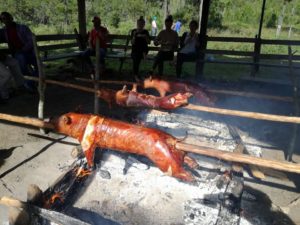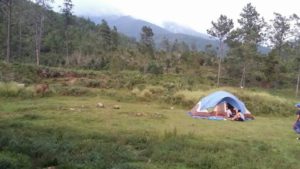 The 5th day (Sunday November 26th)
Goal: to survive the last day.
Early and ready to go and one last trip to the bathroom. When I came out from the bathroom nearly everyone was gone and only five or six others were there. I found out that whilst out I had been on toilet they had begun to walk. What! I had no other option than to wait and take a mule with the rest. That was a very good decision. I enjoyed that day and was happy that I got to experience riding on a mule in the mountains.
My mule was amazing and it didn't try to kill me (which is always nice). At one point my mule walked straight into a tree so I got a big bruise on my knee. The mule also always wanted to be in the front which resulted in me often being alone on the mule. Two men suddenly came running out of the blue and it scared the mule. My mule started running downhill and for the second time on this trip I held on for my life. Luckily it relaxed a moment after and I didn't loosen my grip the rest of the day. After that it was all fine because I could enjoy the view and nature without all the talking.
When we finally ended the trip at the first camp I was very proud. We ate lunch consisting of chicken, salad and pommes frites. Two big busses came and picked us up and I couldn't have been more relieved to see them.
I slept amazingly in my bed that night and didn't go to school the next day.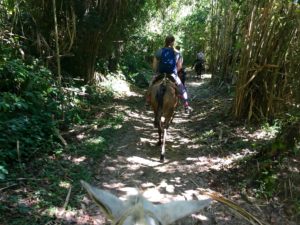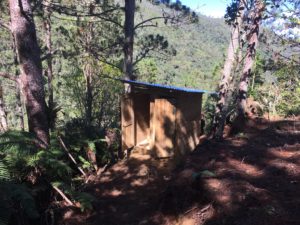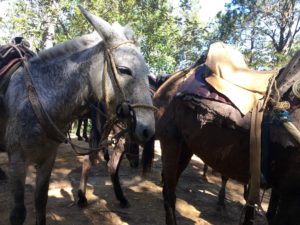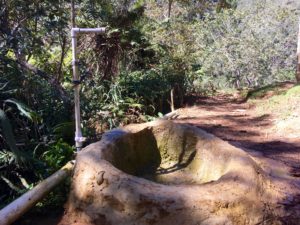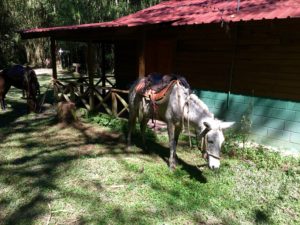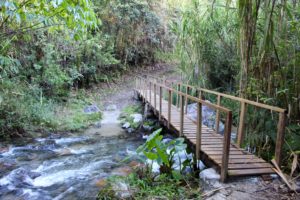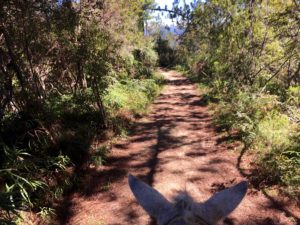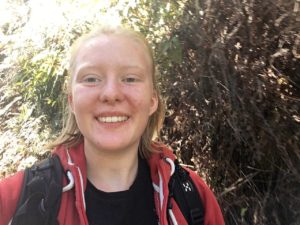 I'm happy I did it! It was a "once in a lifetime experience" because I'm never doing it again (but I still enjoyed it).