My Christmas Eve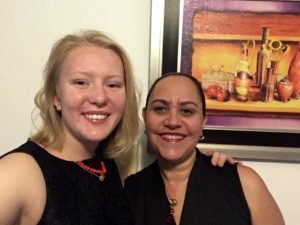 How it felt
I will start this story off by saying that it was difficult and hard to spend Christmas Eve away from my Danish family.
I love Christmas and I´m used to be surrounded by people that share the same love for it as me. Here in the Dominican Republic, people don't care so much about it. In fact, a lot of people work on Christmas Eve and treats it like a normal day. Often, they also take a religious approach to Christmas that is completely different from what I´m used to.
I wrote in another blog post about how they don't really have any special Christmas traditions. Read about it here:
On this day, I missed my family a lot. Normally I don't miss them because either I´m too busy or I think, "I only have one year here and I'm going to spend the rest of my life with them".
Christmas in Denmark is full of traditions and family time. Sooo this was completely different (but that is also kind of the point of an exchange year).
My Christmas Eve in the Dominican Republic
I woke up like any other day. This day by myself and not an alarm which is always more delightful (except if you missed your alarm and are running late). It looked like any other normal day and it was hot outside (on Christmas!?).
One of the magic things about Christmas Eve is that it starts like any other day. As the day slowly goes by you start to build the Christmas mood. So when it´s evening you are ready to have one of the best evenings of the year.
I started my day off with my new favourite breakfast: pancakes with plenty of syrup.
At around 11 am we (my host mom and her sister) chose to buy the pork we would have for dinner.
It felt weird watching people get ready for Christmas in this weather.
When we came to the pork place I couldn't help but feel a bit disgusted. To be honest it felt like there was no hygiene at all. They were chopping a pig up by the side of a road. Cars were passing by as people got their piece of meat in a plastic bag. The smell was surprisingly good and after minutes of waiting, I was more intrigued by the meat.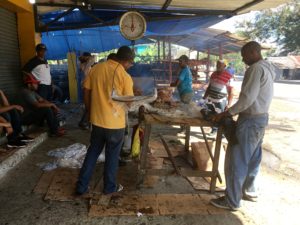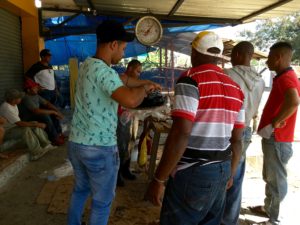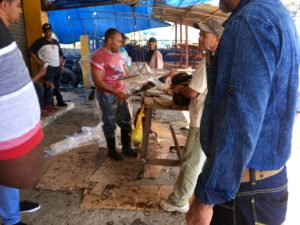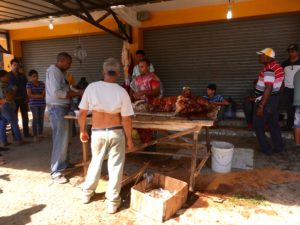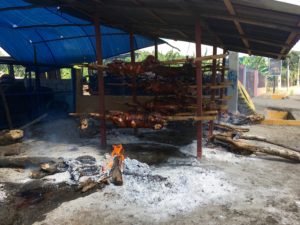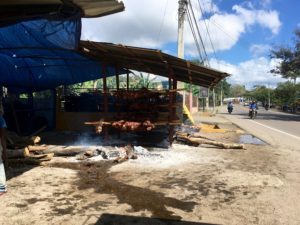 A short time after we had gotten our own meat and was headed off to find a dress to me. I looked in two shops until I found the one I wanted. It was black and semi-fancy (I ended up using it Christmas Eve and New Year's Eve). We tried to find some shoes but they were all to narrow and I ended up using one of my own pairs.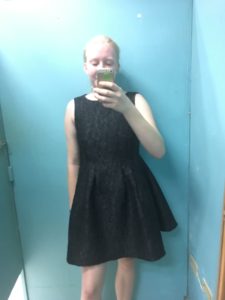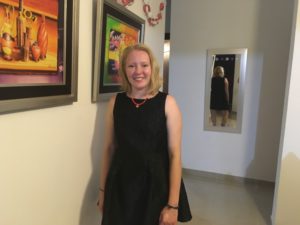 The next special thing that happened was that I talked with my Danish family for three hours. We opened presents together (my family had sent presents to me). I talked with my sister, brother, mom, dad, grandpa and grandma.
I got this for Christmas:
Jewellery (host mom)
Hvidbans (Danish Family)
Two notebooks from Thailand (Danish Family)
"Bathrobe" from Thailand (Danish Family)
A drawing (my sister)
A drawing (my brother)
Keyring from Thailand (Danish Family)
Tickets to Roger Waters concert in Jydskebankboksen with dad (Danish Family)
It felt amazing to talk with my family and afterwards I didn't miss them so much anymore.
I got dressed just as my mom told me the plans had changed (how Dominican). We were going to my host grandma's house instead of them coming to our apartment.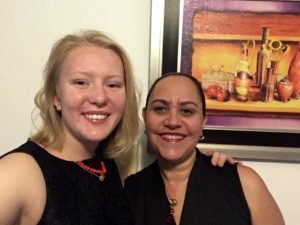 We ended up being 12 people on Christmas Eve (my host mom, brother, grandma, four aunts, three cousins and a girl I had no idea who is and of course me).
To my big disappointment, there were no Christmas decorations. Even with the lack of decorations, it was a nice evening. We ate, drank, talked and some of the others danced. The beer that was drunk was Presidente (of course). The food we ate was:
Cerdo (pork)
Ensalada de papas (potato salad)
Pastalon de arroz
Telera
Pasteles en hojas de yucca y platanos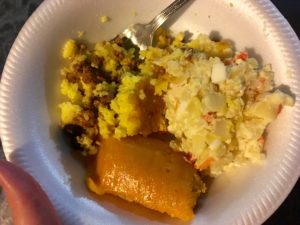 I must say it was fun to experience a new way to celebrate Christmas. I must also say that I'm excited to have a traditional Danish Christmas next year.
That is one of the good things about going on an exchange is that you learn what you love and don't love about your own culture and other cultures.